Electronic music during the past five years is at the peak of popularity. More precisely, not all, but one segment of it, which is called EDM. It is especially popular among students. Why? Below the main reasons for this are described.
Also, as we'll mention a few must-visit events in this article, here is the tip for student readers. If you want to go listen to some great music, back up your academic stance first and have no worries.
Now, let's get to the business.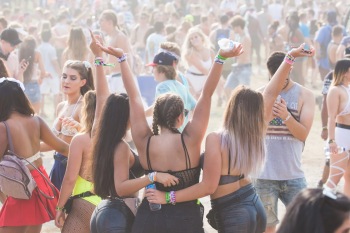 EDM is Comprehensive
The three letters EDM (Electronic Dance Music) first appeared in the
British press
in the 2010s – and since then, this abbreviation has become one of the best-selling music brands.
The term Electronic Dance Music alone does not explain anything. This is not a genre. Behind these three letters can be anything from dubstep to electro-house.
EDM Festivals are Incredibly Popular
Thousands of people come to such EDM festivals like the
American Electric Daisy
. Radio stations in the U.S. are hastily changing the format, giving more air to electronic music.
Some people say that the rave boom overtook America with a 20 years delay. In the 90s, when Britain held massive raves in the fields and warehouses, and the Germans destroyed the Wall and liked to have parties in the industrial buildings of East Berlin, the American electronic scene was alive only in a few large cities: New York, San Francisco, Detroit, Chicago, and Los Angeles.
Ridiculously few people came to events connected with EDM.
So, how did the Americans come to the current triumph of EDM? Party sponsors have turned techno-romance off and turned the money-making on.
They got rid of all the negativity associated with the word "rave" – large crowds of people dancing to electronic music began to use more euphonic word festivals.
The EDM festival is held on a site that meets safety requirements (for example, a sports stadium), where there are parking lots, food courts, doctors, security, etc.
DJs are New Rock Stars
Today any interview with an EDM star is conducted either in a five-star hotel room or on board of a private jet. These young men and women swing vast crowds of people every night. They live as if there will be no tomorrow. And they get more and more money.
Famous rock artists collaborate with them, including Jon Bon Jovi, Chris Martin from Coldplay, and Nile Rogers, to mention a few.
Vegas is the Capital of EDM
Sin City is moving to the rhythms of EDM. Although at first, the DJs were not wanted there. They were told - play in Ibiza, your electronic music distracts guests from roulette and poker!
Then it suddenly became clear that the new industry could be no less profitable. The city's most famous night club, Hakkasan, owned by a relative of the United Arab Emirates emir, makes a lot of money on EDM.
Here you can recall a quote from Will.i.am, the biggest fan of EDM music in hip-hop: "In pop music, a song becomes a hit when it is played many times on the radio. In the DJ business, a hit is when a lot of alcohol is sold."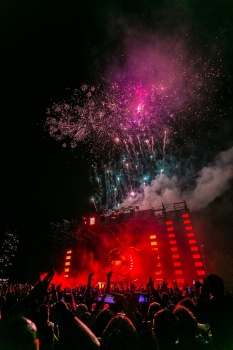 EDM is Profitable and Spectacular
Previously, nobody knows a DJ's face. Bending over the turntables, one could have spent hours not throwing a single glance into the crowd.
In the era of EDM, DJ is a superstar. Dancers no longer look at each other; their eyes are now turned to the stage. From the outside, it most closely resembles the circus arena.
It seems like it started with the band Daft Punk, which once performed at the Coachella festival inside a huge shining pyramid. Avicii played, standing on the huge head of himself. Skrillex arrives on a ship. Steve Aoki rides in a crowd on an inflatable boat and throws cakes at the audience.
Of course, any such show comes with a lot of lights, laser shows, video projections, and expensive decorations.
New Dress Code Was Born at Festivals
In the old days, ravers could surprise with their appearance. Now, visitors to EDM festivals are increasingly referred to as "new flower children."
They, like the hippies of the 1960s, strive for everything bright and psychedelic. Purple fur boots, acid colored wigs, lots of pink and the wildest costumes – all this is an integral part of the new rave culture.
EDM is Scolded Meaning It's Something Big
There is a lot of grunts on the topic of EDM because, for many people, this music is soulless and too commercial. It kills the very idea of ​​DJing and produces robots, whose whole task is to press the "play" button.
Therefore, it is better to focus on what's good in it.
Wrapping Up
EDM sounds more or less standard, and the "underground" often looks more interesting against its background. By attracting thousands to festivals, EDM greatly popularizes the electronic music genre as a whole.
Be sure you become one of the visitors someday!
More articles...