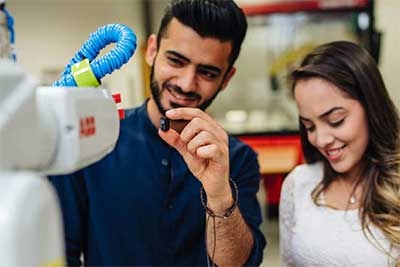 Credit ©FH Kärnten / Hofmann

Course
M.Sc. Industrial Power Electronics



Degree awarded
Master of Science in Engineering (M.Sc.)


Address
Carinthia University of Applied Sciences (CUAS), Villacher Straße 1, A-9800 Spittal, Austria


Telephone
+43 5 90500-7700


Facsimile
+43 5 90500-1110


E-mail address
info(at)fh-kaernten.at



Type of course
Work-friendly


Language of tuition
English


Length of course
4 semester


Date of commencement
The semester starts in October


Application deadline
I: 01.11.-15.03.2024
II: 16.03.-15.05.2024
III: 16.05.-15.07.2024
IV: 16.07.-30.09.2024

For applicants from outside Europe:
Due to visa and legalization processing, we accept applications only from period I & II


Cost / fees
Tuition fee: EURO 363.36 per semester + Austrian Students Union Fee (ÖH) EURO 20.70


Accommodation
Please contact the University


Admission requirements
completed Bachelor's program with the following minimum scope in the core areas:

- Electrical Engineering / Electronics / Circuit Engineering (15 ECTS)
- Mathematics (10 ECTS)
- Physics (8 ECTS)

Please apply online via our online tool. The following documents are mandatory: - CV
- Portrait Photo
- Passport
- School leaving certificate
- Academic transcript of records
- Motivation letter
- Proof of English language skills
- 2 Letters of recommendation
- Short description of your Bachelor Thesis or another academic paper written by you

Please submit your application documents online (free of charge) and we will be happy to check your admission requirements. You can also apply for two degree programs at the same time. In this case, we require a letter of motivation for each degree program.


Programme Director
Dr. Michael Glavanovics
Scientific Director Power Electronics - Head of the development team


Contact details for application
CUAS Info-Center +43 5 90500 7700
info(at)fh-kaernten.at


Masters Session ONLINE
Information on all Master´s degree programs
Monday, November 20, 4:00 – 7:00 pm

Meet the heads of degree programs at Carinthia University of Applied Sciences online and find out everything about the program content, program structure, admission requirements and interesting projects of the program. You will also have the opportunity to get in touch directly with the head of degree program and ask individual questions, such as:
What requirements must be met for the degree program?
Is there an entrance examination?
How can I best prepare for my studies?
and much more.
The heads of degree programs will be happy to answer all your questions.
www.fh-kaernten.at/en/mastersession/
Other courses offered by Carinthia University of Applied Sciences


Carinthia University of Applied Sciences (CUAS)
M.Sc. Industrial Power Electronics

The rapid digital transformation is posing new challenges for business and politics as well as society in general. At the same time, it is creating an increasing demand for a well-educated work force, especially in the field of microelectronic applications with a growing focus on power electronics. The new master's program "Power Electronics" will be an innovation driver for this dynamic technology sector. Creative ideas can be developed and actively promoted in this program, offering young people the opportunity to gain experience and shape the future with us.

Empower the sustainable energy future! Students of the master's program will be provided a comprehensive, theoretical and practical understanding of the technology, development and application of current power electronic components and systems.

This educational program focuses on the conception, design, modeling and simulation, control and protection, construction, assembly and testing of power electronic circuits and systems for intelligent and efficient energy conversion. In the course of their education, graduates will acquire scientific competence in the field of technical research, ranging from literature study to systematic problem formulation and solving as well as the publication of their results. Moreover, they will gather valuable experience and self-confidence in professional teamwork, communication and discourse with colleagues and external contacts.

Jobs and Careers

Graduates of the master's program "Industrial Power Electronics" will easily be able to find employment with microelectronics companies and semiconductor manufacturers, electrical utility providers, public transport facilities and companies in the automotive, aerospace and aviation sectors as well as the telecommunications branch.

Electrical engineers in the field of power electronics are concerned with the efficient conversion and transfer of electrical energy from its generation to its various application levels.

In the master's program "Industrial Power Electronics" aspiring engineers are prepared for the technological and methodological challenges in their future field of modern power semi-conductors and their industrial application in power electronics energy conversion


Carinthia University of Applied Sciences (CUAS)
private non-profit foundation

Since its inception, the Carinthia University of Applied Sciences (CUAS) has developed into a unique educational institution in Carinthia. Due to the constant further development of the study programs of Carinthia University of Applied Sciences and intensive cooperation with industry and science, CUAS students are sure to have a future-oriented education.

CUAS lives the model of immediate practical relevance. Principal and part-time employees, as well as guest lecturers from industry, ensure interdisciplinary, internationally oriented university education. Currently 36 degree programs are offered in the fields of technology, health, and social affairs, as well as economics.


7 Reasons to Study at CUAS

Face to face

We are known for our open and family atmosphere. At our university, great importance is attached to the personal coexistence of students, employees, and professors. Small working groups enable individual support.

Internationality

We are a university with an international orientation. CUAS cooperates with more than 160 universities worldwide. Infinitely cosmopolitan, located at the intersection of three cultures in the Alps-Adriatic region, very close to Italy and Slovenia, it offers local and international students excellent conditions for multilingual studies.

Practical orientation

The combination of study and practice ensures the quality of teaching and research, our many international guests and part-time teachers from industry and business provide this. Cooperation's with regional and foreign companies not only ensure a practice-oriented range of courses but also guarantee scientific knowledge.

Future orientation and sustainability

Innovative courses of study at the cutting edge make CUAS a showcase for sustainable research and development. Promising topics in all areas of study play an important role.

Unique nature, culture, and way of life

Studying in Carinthia is fun! The university is immersed in idyllic mountains, valleys, and lakes. There is a vast selection of sports and leisure opportunities at any time of the year. The picturesque Carinthia landscape ensures a unique quality of life around your studies.

Creative, young, and dynamic atmosphere

In addition to their studies, young, dynamic networks provide perfect opportunities to gain a foothold in the start-up sector. Think-centers, incubators, attractive innovation workshops, and many events bring together students from CUAS and entrepreneurs from the region and enable them to get to know each other at an early stage for future joint projects.

The combination makes it

Where and above all, what you want to study wants to be well thought out. CUAS makes a choice very easy: Here, you will find the unique combination of a wide range of exciting and practice-oriented studies and a quality of life that is unparalleled.


In-service studies

In-service training is the key to personal career planning. As a student at CUAS your curriculum is organized in such a way that you can reconcile your studies and jobs.

Model

CUAS is a dynamic and dialogue-oriented university with regional roots and international orientation. It works in the fields of health and social affairs, technology, and economics. Its core tasks are in the areas of study and teaching, applied for research, knowledge transfer, and further education.

Vision

"We want to position ourselves as a university in teaching and applied research in our core areas of technology, business, health, and social issues at the top of Austrian universities!"

Charter of diversity

The Charter of Diversity is an initiative to promote appreciation of all members of society - regardless of gender, age, race and color, sexual orientation, religion and belief, and physical or mental disability. The Charter of Diversity is a public, voluntary commitment. It is based on the recognition that diversity is an essential feature of Europe - its history as well as its society. It sees and appreciates the benefits and opportunities that diversity offers.

University administration

CUAS was founded in 1995 in the legal form of an association as a carrier of the University of Applied Sciences study programs in Carinthia. The seat of the association was in Spittal an der Drau. Since the beginning of 2002, the University of Carinthia - Charitable Private Foundation has been the sponsor and maintainer of the University of Applied Sciences degree programs.

The private foundation is financed by contributions from the federal government, the state of Carinthia, and the communities of Villach, Spittal / Drau, Klagenfurt, and Feldkirchen. In addition, the membership fees of the association, which has become one of the 15 founders, as well as donations and proceeds from events, contribute to the financing of the operation of the organization.

The link between employee and employer

We are not only responsible for our actions, but also for what we do not do. (Moliere)

The works council is the link between the employees and the employer. The task is to act as a mediator, but also to act as a one-stop-shop. The current works council team harmonizes complements itself well and is eager to implement the concerns for all colleagues positively.

An elected works council can - based on the solidarity within the workforce - actively and consistently address and represent the concerns of its colleagues. In addition to the "core business," the representation of the staff towards the employer CUAS, the works council, also takes care of the promotion of the economic, social, health, and cultural interests of the employees.