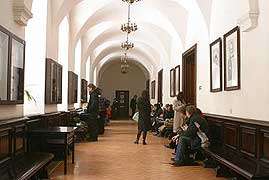 Course
Graduate Programme in Security Studies



Address
Collegium Politicum, Room 127 (1st floor), Main Campus, Krakowskie Przedmieście 26/28, 00-927 Warszawa, Poland


Telephone
+48 (22) 55-22-969 (administration of studies)


Facsimile
+49 (0)631 205 4940


E-mail address
graduate.politicalscience@uw.edu.pl - (administration of studies)

inp@uw.edu.pl



Type of course
Second-cycle full-time graduate studies


Language of tuition
English


Length of course
2 years (4 semesters)


Date of commencement
The Winter semester begins on the 1st October and lasts until the end of January, with the Christmas and the New Year break.
The Summer semester begins in mid-February, after the semester's break, and lasts until the last week of June, with a short break for Eastern holidays.


Class size
At least 25 students.


Cost / fees
Tuition fee in the academic year 2018/2019: EU/EFTA citizens and other students admitted on equal terms with Polish citizens: 3200 euro/year. Students from outside the EU/EFTA area should pay additional single fee which amounts to 200 euros.
Other international students admitted on fee-paying basis: 3200 euro/year.
Tuition fees cover the cost of participation in the program.


Major recruiters of graduates of our programmes
Many different job opportunities are available for graduates of the Graduate Programme in Security Studies. For instance, you will be able to work for security institutions, enforcement agencies or as an analyst etc.


Exchange partner schools
The Institute of Political Science co-operates with many foreign universities. Within the Erasmus Program it has signed agreements with about 50 universities from: Austria, Belgium, Bulgaria, Croatia, Czech Republic, Denmark, Finland, France, Germany, Greece, Holland, Hungary, Ireland, Italy, Norway, Romania, Slovakia, Spain, Sweden, Switzerland, Turkey and The United Kingdom.


Student profile
1. Countries of origin (number): 17
2. Ratio Men/Women: 7/1
3. Average Age: 35 years


Admission requirements
Candidates should register on-line via Internet Registration of Candidates – IRK.
You can learn about registration requirements at: https://irk.uw.edu.pl/katalog.php?op=info&id=S2-BW-ANG&kategoria=studia_5&change_lang=en


Contact details for application
Ms Aneta Rachwał
Collegium Politicum, Main Campus
Krakowskie Przedmieście 26/28
00-927 Warszawa
Room 127 (1st floor)
Phone: +48 (22) 55-22-969
E-mail address: graduate.politicalscience(at)uw.edu.pl